Established Student Accommodation in Bristol
All-inclusive utility bills
Up to 50Mbps free Wi-Fi and broadband throughout
Opposite University of Bristol
TV in all rooms
Free contents insurance
Private en-suites
Modern communal area
Ideally located directly opposite the University of Bristol and surrounded by trendy cafés, tea rooms, eateries and several student pubs.
ABOUT HOLLY COURT
Holly Court offers a variety of larger than average student studios, with three having their own terrace area, and four one-bedroom student apartments. All of these rooms are fully furnished to a high standard with a modern fully-equipped kitchen including an oven, dishwasher and your own washer/dryer so you don't even have to leave your room to do your laundry. All rooms are en-suite and have a comfy double bed. There is also a fantastic communal roof garden located on the first floor of the building where you can kick back and relax when the sun is out or cosy up in front of the flat screen TV in the communal lounge for a relaxing night in.

Whether you're an undergraduate, postgraduate, couple or fresher – Holly Court is the ideal place to enjoy your time as a student in Bristol.

Spacious Rooms
Make yourself at home in one of our studios which have lots of space for all of your belongings
Communal Area
Meet and get to know your neighbours in the communal area with flat-screen TV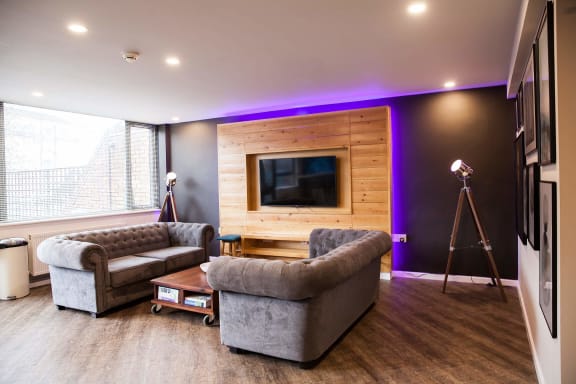 Free Wi-Fi
Netflix till your heart is content and never miss a deadline with free internet

All-inclusive utility bills

Up to 50Mbps free Wi-Fi and broadband throughout

Opposite University of Bristol

Private en-suites

TV in all rooms

Exclusive rooftop terrace

Washer/dryer in each room

Communal lounge